Staff Scheduling
Scheduling your staff has never been easier.
Spend Less Time Scheduling
Setting up your staff schedule is quick and easy. Once you set up your locations, positions and preferences (day of week, view mode, etc.), you can quickly import your employees via excel spreadsheet.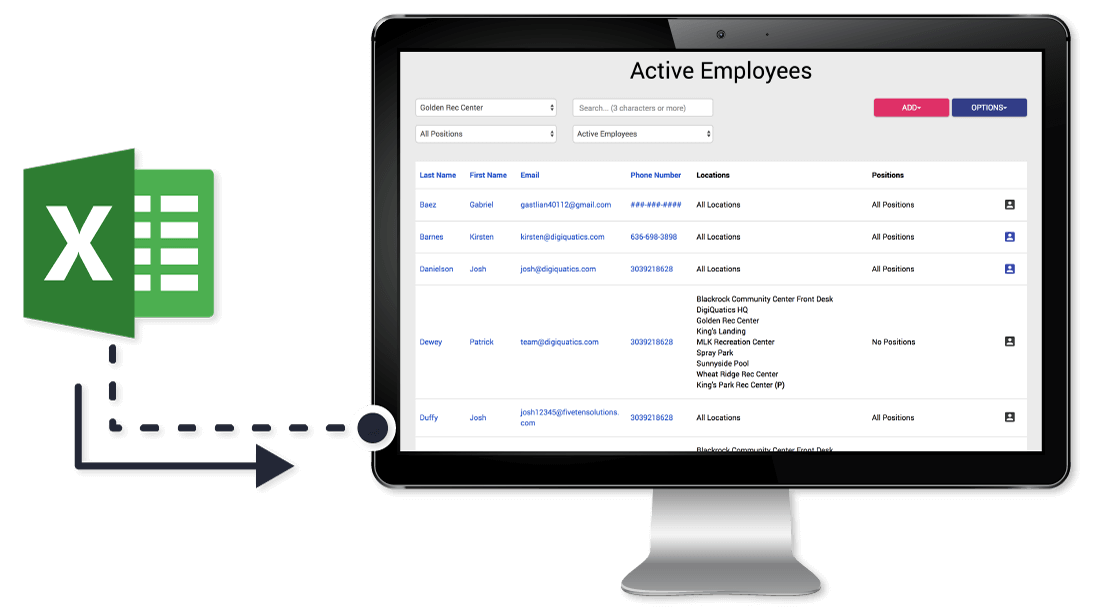 "Easy to schedule staff and make new schedules. Summer schedules that used to take me almost TWO DAYS to complete were finished in a FEW HOURS with DigiQuatics."
---
Simple Data Entry
Inviting your employees to DigiQuatics is easy. Once you create their profile, we'll automatically send them an email and text message invitation to log in and get on-boarded straight from their phone!
24/7 Mobile Access
Staff are always in-the-know. They can access their schedule anytime from their phone, get reminded about upcoming shifts, and trade shifts with the click of a button. They can even sync their schedule with Google Calendar, iCloud Calendar, and more.
Cross-device Compatibility
DigiQuatics Staff Scheduling is web-based. No need to worry about installation, just open your browser on any desktop, tablet, or mobile device and build or adjust your schedule on the go!
---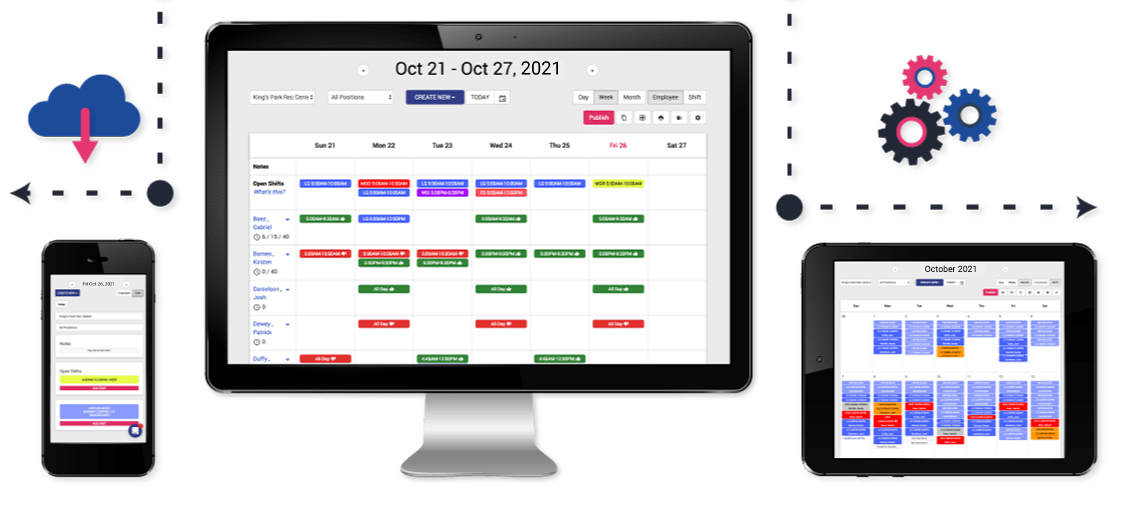 ---
Schedule Notes
Have a special event or just need to let staff know about something important on the schedule? Simply create a schedule note on that day and they'll be able to see the details when they view their schedule on any device.
Intelligently Scheduling
Have a 15 year old on your payroll? It's easy to make sure they don't get scheduled outside department of labor rules. Any underage employee (based on their birthdate) is highlighted so you know to take extra precautions when scheduling them. Also, we'll make sure you don't double book employees by alerting you with shift conflicts.
Always Know Your Schedule
Staff no longer have an excuse for not knowing their schedule. They can view their own schedule on any device, 24/7. The schedule is always up-to-date, so there's no old copies laying around. Staff are even alerted instantly when the schedule is published so they know what shifts they have been assigned!
---
Auto-Schedule
In a hurry? DigiQuatics Auto-Schedule can fill all of your unassigned shifts with eligible employees for you! Simply create your empty schedule and once all your employee availability, time off request, desired hours, and max hours are set, our algorithm does all the heavy lifting.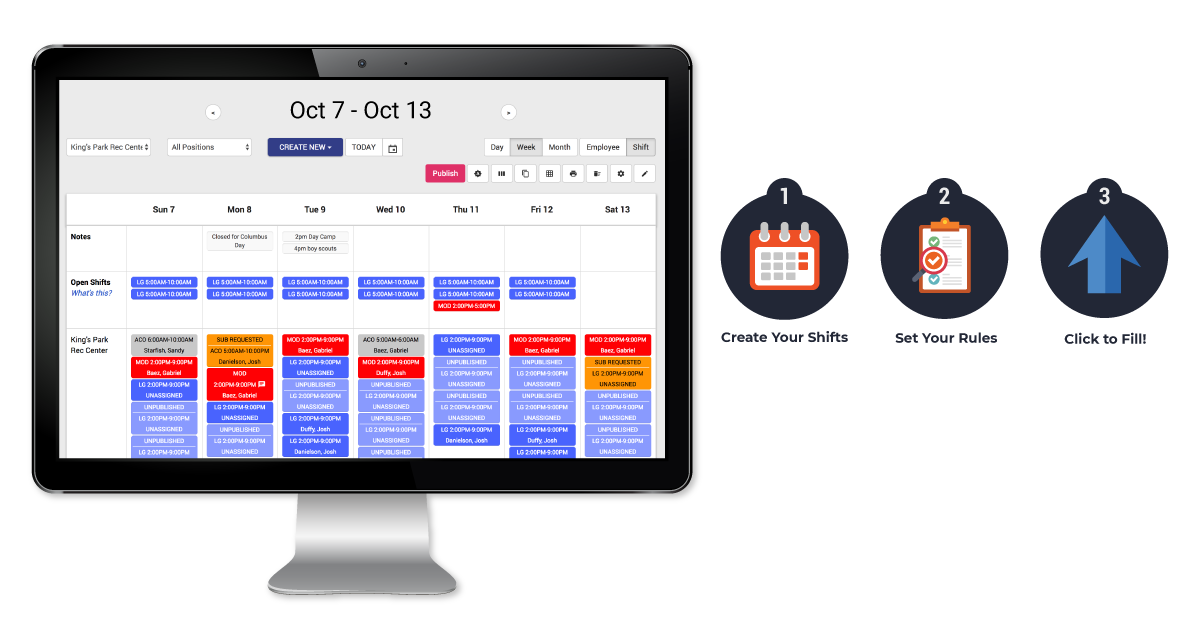 ---
Would you rather watch our staff scheduling pre-recorded webinar?
WATCH NOW
---
Keep Your Schedule Under Control
There's always human factors. For example, you know which employees you can trust opening shifts to, or which lesson instructors are best. Assign your must-haves in the schedule first, then let Auto-Schedule fill in rest of the gaps!
Keep It Fair
Auto-Schedule maximizes the availability and desired hours of all employees first. Shifts are spread across all staff up to their desired hours before starting to go up to max weekly hours, so you can keep the schedule fair and consistent across staff.
---
6,015,118 shifts scheduled and counting.
Try it Out
---
Employee Availability
Keeping track of when staff are available to work used to be a pain, but not anymore! You will always know when employees are available, if they have requested time off, so you can quickly build your staff schedule around their needs.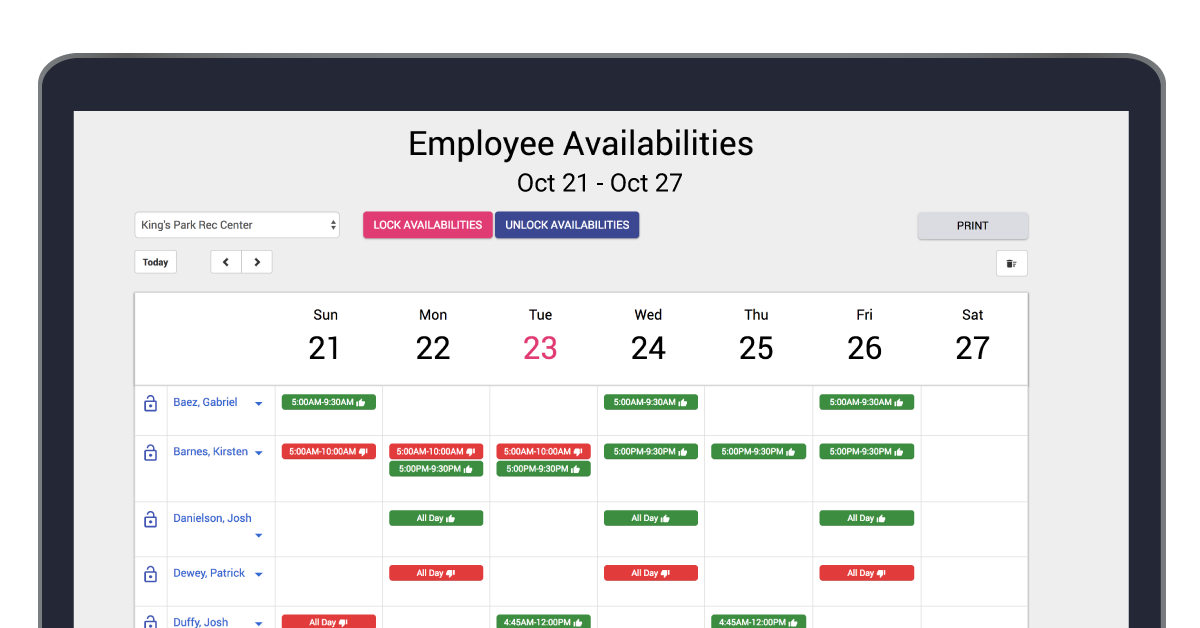 Up-To-Date Employee Availability
DigiQuatics allows each employee to input and manage their own work availability, on any device. Once they enter their availability, it automatically integrates with the staff schedule so you can quickly see who can and can't work a shift. You can even lock the employee from changing their availability while you schedule, so you don't have to worry about things changing on you!
---
6,814,189 availabilties managed.
Try it Out
---
Time Off Requests
Quality of life is directly connected to having healthy time away from work and maintaining a a healthy personal life away from work sometimes. Handle vacation and time off requests with ease and clear communication.
Simple Vacation & Time Off Management
Employees can make time off requests directly from their mobile device, tablet, or PC. Managers are alerted automatically via text or email for approval. Once approved, employees are automatically alerted that their request was approved or denied. Then this information is logged and integrated into the staff schedule to further identify who is eligible to fill shifts.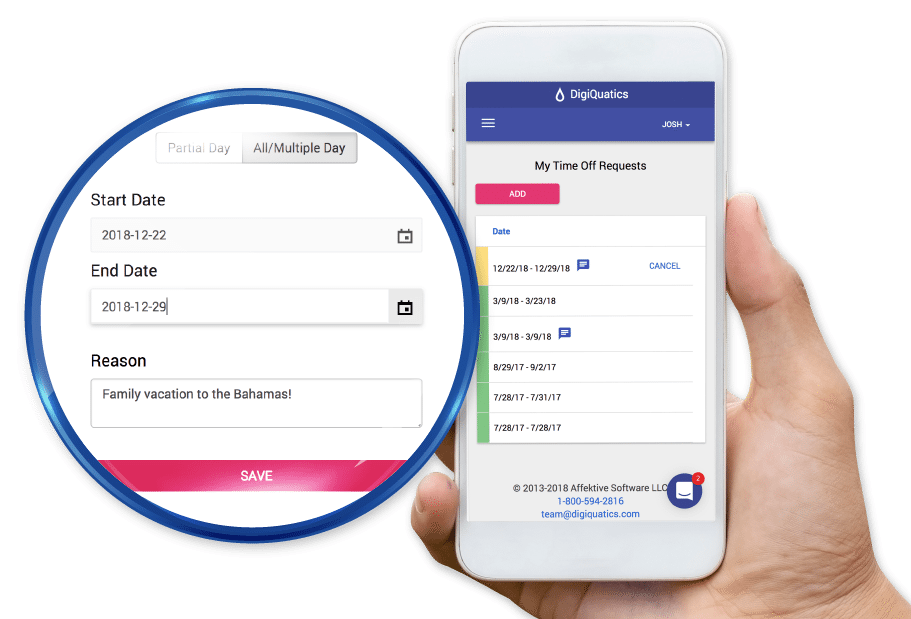 ---
Open Shifts
Have a shift that needs filled? Employees can sign up for open shifts on their own by creating these special shifts on the schedule. Unlike unassigned shifts, published open shifts are visible to any eligible employee and they can sign up with one click while viewing their schedule. Employees can also get an alert immediately when an open shift is published to the schedule, so filling extra shifts is easy and efficient!

---
Sign Up for Open Shifts
Employees can see open shifts when viewing their own schedule and they can get alerted when an open shift is published to the schedule. Then, they simply click on the shift and sign up. Once approved, the open shift automatically moves to their schedule.
Easily Manage Open Shifts
You can easily monitor the number of open shifts on your dashboard. When staff sign up for an open shift you can get alerted via email or text message to get approval done instantly so the shift then moves to their schedule automatically.
---
Sub Requests / Shift Trades
Save time and communication headaches by letting your staff trade shifts with each other via DigiQuatics. By giving your employees flexibility to trade shifts, you can reduce the number of no-shows and improve employee happiness.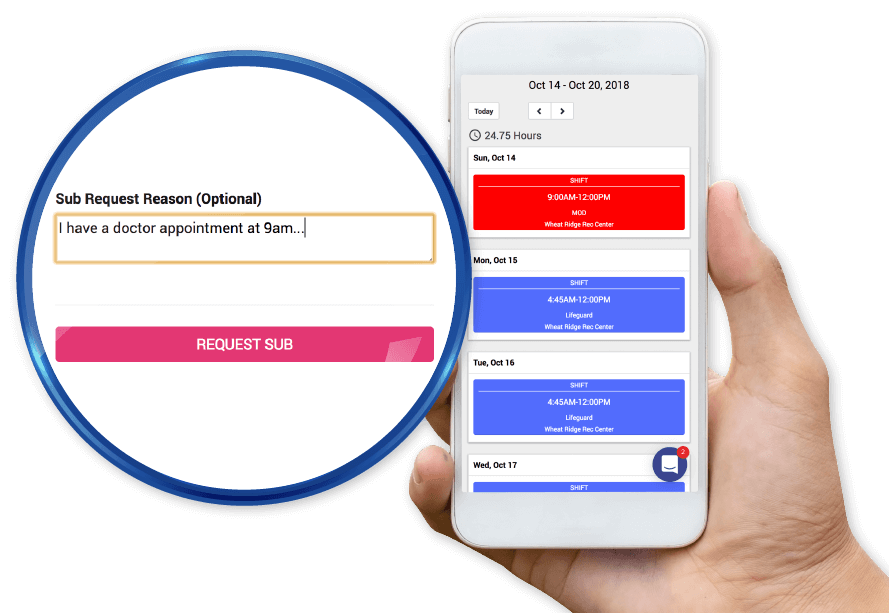 Request A Sub
Employees can easily request a sub for their shift on the schedule. An automatic alert is sent to other staff members who are eligible to cover the shift. No more texting or calling the contact list to try and get shifts covered.
Simple Sub Request Approval
Another employee can accept the shift from any device. An alert can be sent to managers letting them know the sub request has been accepted and is waiting manager approval. Once approved, the employee and sub are both notified and the schedule is automatically updated! If denied, the sub request remains available for another employee to pick up.
---
424,485 sub requests and open shifts handled.
Try it Out
---
Schedule Templates
Creating your staff schedule can be super time consuming, but it doesn't have to be! With templates, you can save templates with unassigned or assigned employees, then import them into the future to get 80% of the work done with just two mouse clicks.
---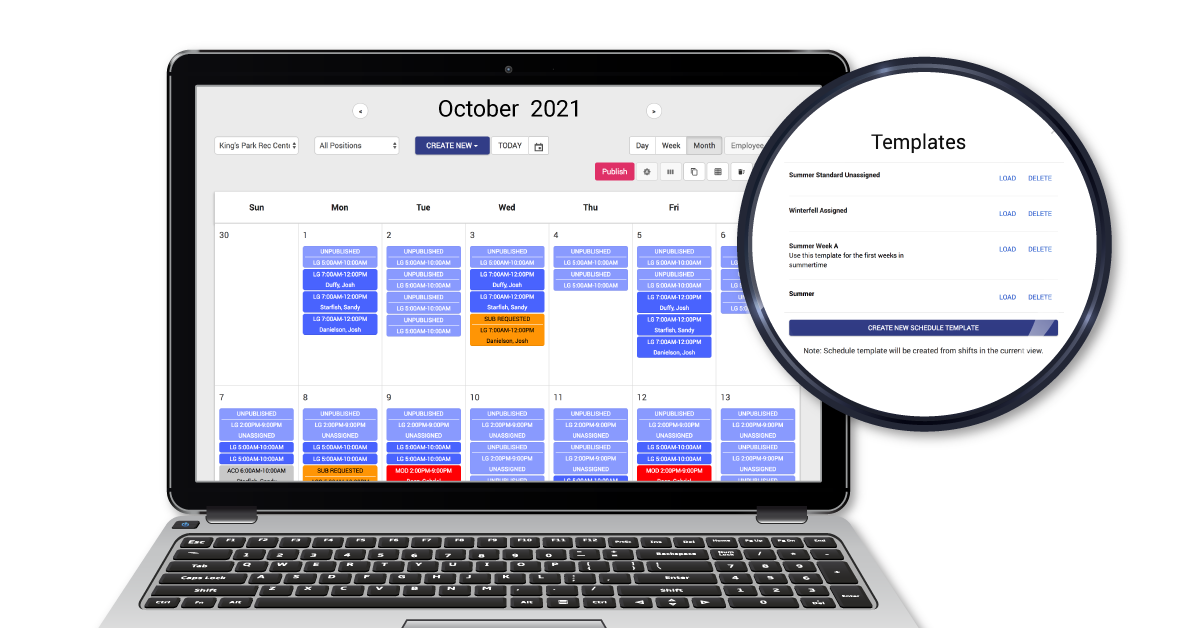 ---
Create a Template
Is your staff schedule similar during a given season or program sessions? Great! Simply create a standard schedule (unassigned or assigned to employees) and then save the template for future use. You can create as many templates as you'd like and delete / edit as needed.
Load a Template
Choose from one of your saved schedule templates to load all the shifts in with one click! Depending on whether you saved your template with employees assigned to shifts or not, your new schedule is ready to publish or ready to fill.
Easy Adjustments
No schedule template is perfect. You need an extra employee for a special on Friday night? Simple. Once your schedule template is loaded, you can make easy additions or subtractions to the schedule before published and even save your new schedule as another template for use down the road!
---
Budget Easier & Track Payroll Expenses
Schedule Reporting from DigiQuatics allows you to export a detailed summary of your labor costs. With employee specific pay rates, the total schedule labor costs are already calculated for you, so you can project labor expenses forward and budget better. Or, you can look at historical records to see how your labor costs perform over time.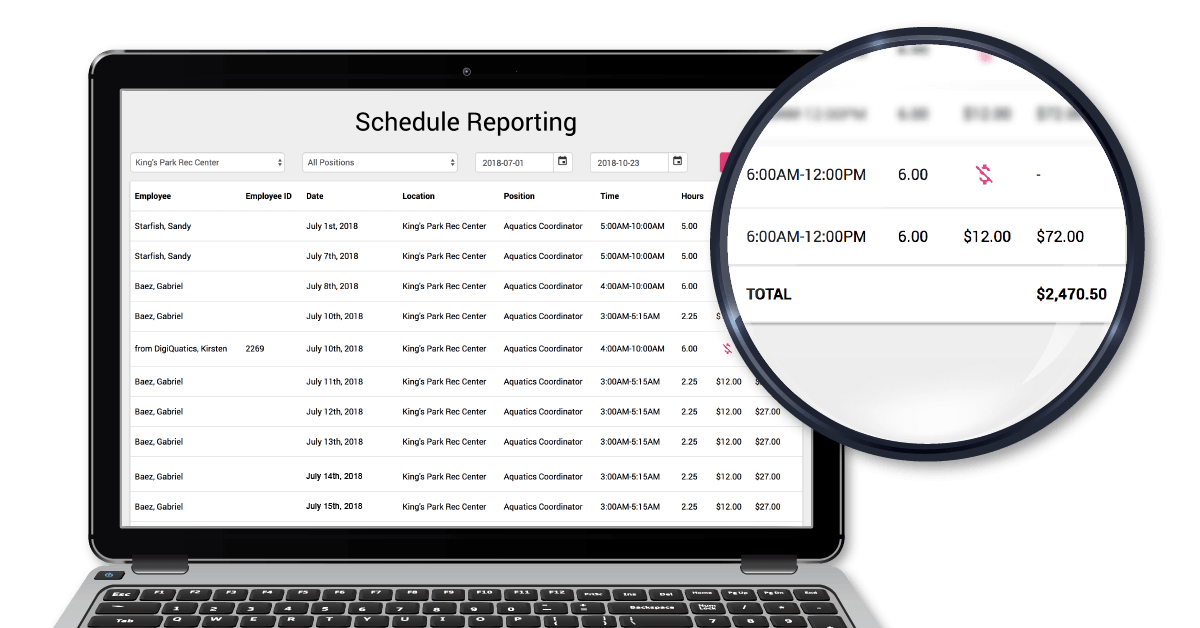 Reporting
Quickly export your staff schedule to excel to get a detailed report of your real labor costs. You can easily look at total hours, waves, and payroll expenses during any given time period.
Reduce Overtime
When scheduling employees, approving open shift sign-ups or sub requests, DigiQuatics automatically alerts you if your staff member is going over their set weekly hours. You can override if needed, or find another staff member who has a few extra hours free before hitting overtime.
---
Third-party Calendar Integration
Employee calendars can easily be syncronized to third-party calendar applications.
Synchronize Staff Schedules Across Multiple Apps
Employees can synchronize their schedules with calendar apps they are already using. Common calendar integrations include Google Calendar, Microsoft Outlook, Apple iCloud Calendar, and many more. Any calendar application that uses the standard ICS subscription link can automatically synchronize with DigiQuatics so staff always know when they are supposed to work. Native calendar apps allow staff to get reminders on their phone when their shift is about to start, so you can ensure they are always on time!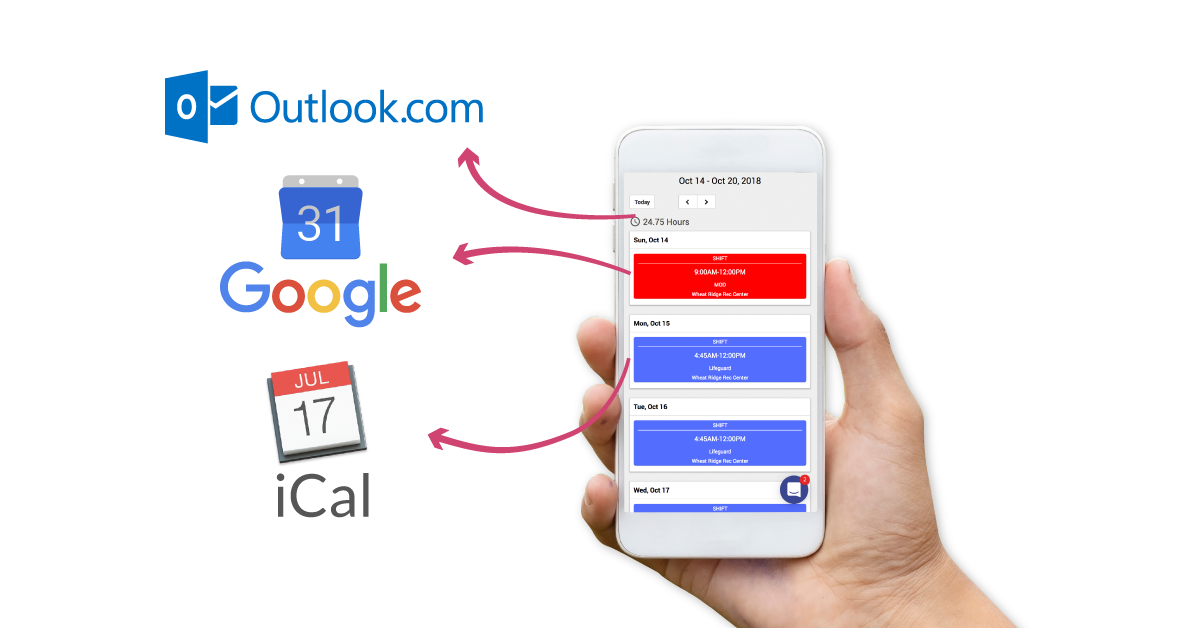 ---
Multiple Departments? No Problem.
DigiQuatics Staff Scheduling allows you to easily manage employee schedules in multiple departments and keep them separate (enough). Lots of organizations share staff between departments, so you can keep those separate, but give access to the departments each staff member needs. That way, all managers and staff only see what they need to see.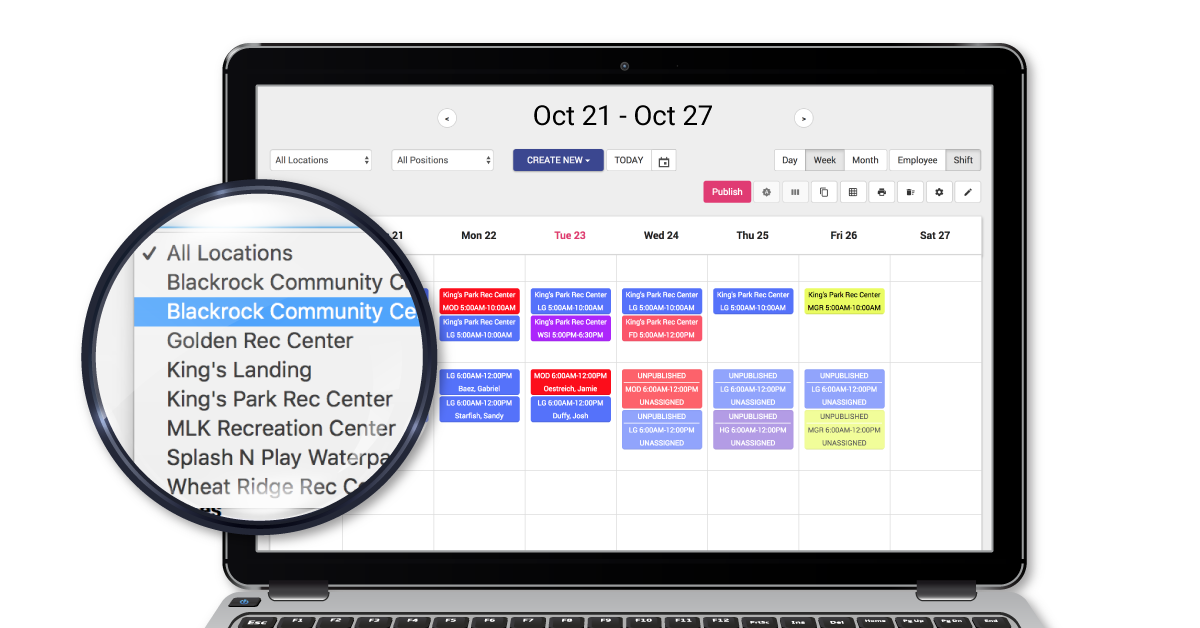 Scheduling Departments
Use separate "locations" in DigiQuatics for departments. Then add managers and employees access to one or multiple departments so they only can access what they need to...
Directions & Maps
For each location (or department) you create, add it's street address. When a shift pops up on an employee's schedule, they can click the address to open directions and GPS navigation to the facility. You can also add location notes including lock box, gate codes, etc that staff can access when viewing their shift.
---
Stop wasting time and get started with DigiQuatics staff scheduling today!
Let's do this
---
"DigiQuatics has really helped streamline our employee schedules..."
"Faster way to schedule staff and keep track of items that typically get wet at the pool...DigiQuatics consolidates all records in one place."
"Makes my life as an aquatic director easy - I know whats going on with my pool with staffing and the schedule! It's amazing!"