Certification Tracking
Track all of your staff certifications in one place and improve your risk management today.
Track certifications from any provider
DigiQuatics Certification Tracking is 100% dynamic and configurable. DigiQuatics supports any provider including the American Red Cross, Starguard, Jeff Ellis & Associates and more! Simply customize your "certification types" such as ARC Lifeguard, YMCA Lifeguard, Water Safety Instructor, etc. and your ready to upload staff certifications in bulk!
"Makes my life as an aquatic director easy! I know whats going on with my pool with staffing, chems, maintenance... certifications and the schedule! DigiQuatics is amazing! "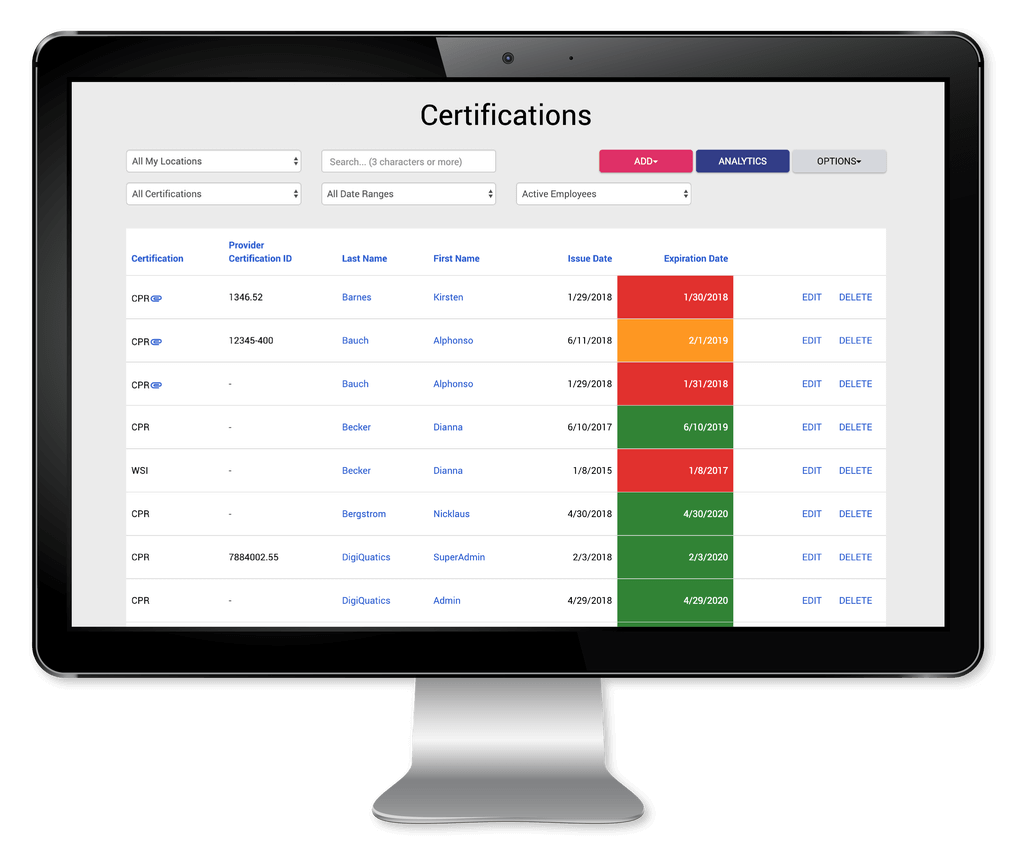 ---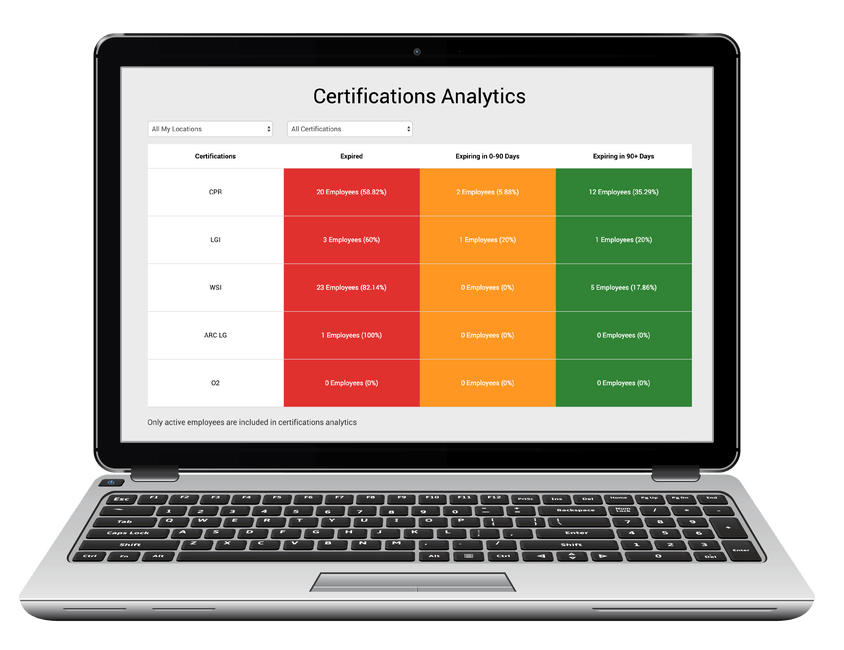 Extra information? We've got you covered.
Along with tracking the certification issue date and expiration date, DigiQuatics also allows you to track the provider id, which is very useful for providers such as the American Red Cross, as well as the actual PDF or image of each certification. This allows for 100% digital management of all your staff certifications in one place!
---
Model Aquatic Health Code (MAHC) compliance made simple.
The Model Aquatic Health Code (MAHC) states that all staff certifications be made readily available to staff, patrons, and inspectors of any aquatic facility. By tracking your staff certifications in DigiQuatics, any staff member can have access to certifications for employees across any facility and show them to the requestor. No more binders or file cabinets to maintain or search through in a pinch.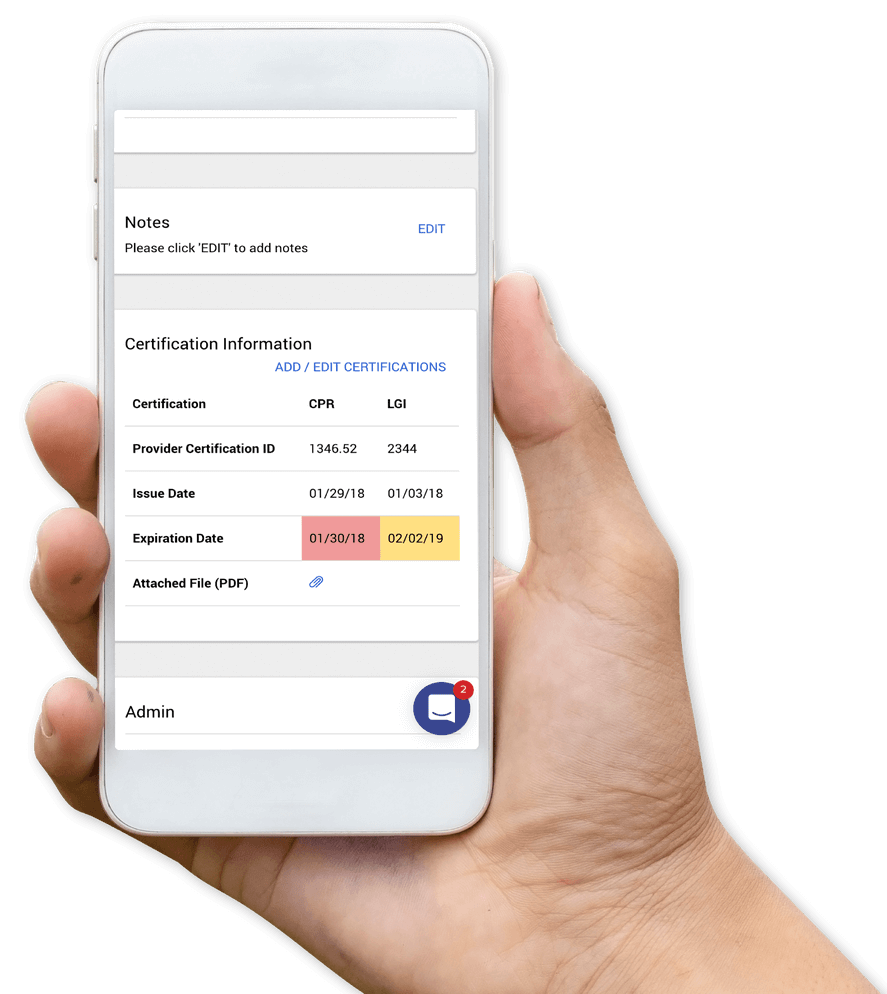 ---
Over 43,553 certifications tracked to-date!
Digitize your certifications today!
---
Improve your risk management
DigiQuatics automatically tracks which certifications are expired, near expiration, or in the "safe" zone for expiration. In addition to tracking and color coding your certifications, DigiQuatics automatically emails supervisors to let them know which staff members are about to expire and need to be enrolled in a recertification class. DigiQuatics also automatically emails your staff directly to let them know when they are nearing expiration or have expired certifications so they can sign up for their own recertification classes in time.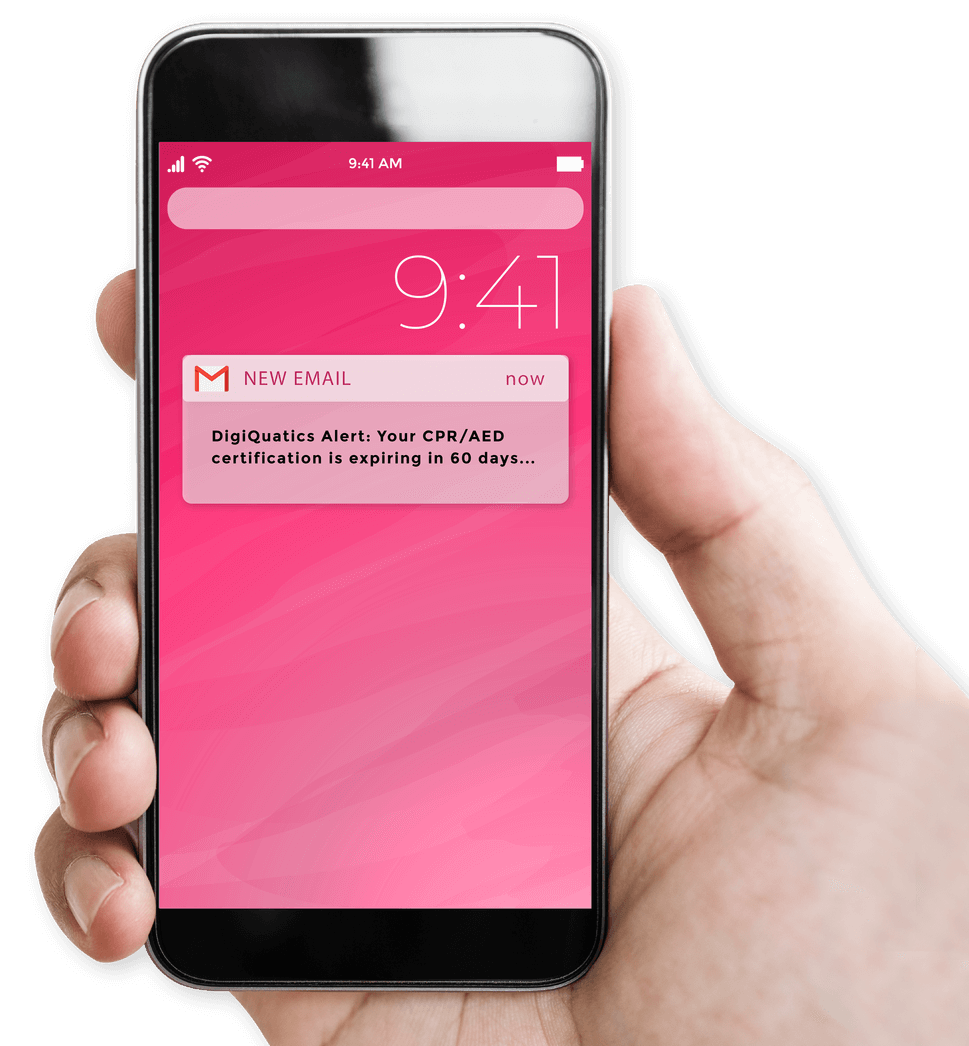 ---
"It's obvious that the designers of DigiQuatics have a deep background working at pools and managing all the moving parts! We were so happy with how easy the program was to learn, and it's great to have everything in one place, like certification expiration dates and chemical logs. It has made everyone's job easier."
---
Empower your staff with access to their own certifications
DigiQuatics finally gives staff the ability to view their own certifications. Gone are the days of answering phone calls, emails, and text messages about your staff' certifications. With DigiQuatics they can easily view their certification issue dates, expiration dates, and PDF or image attachments of their certification cards right from their mobile phones.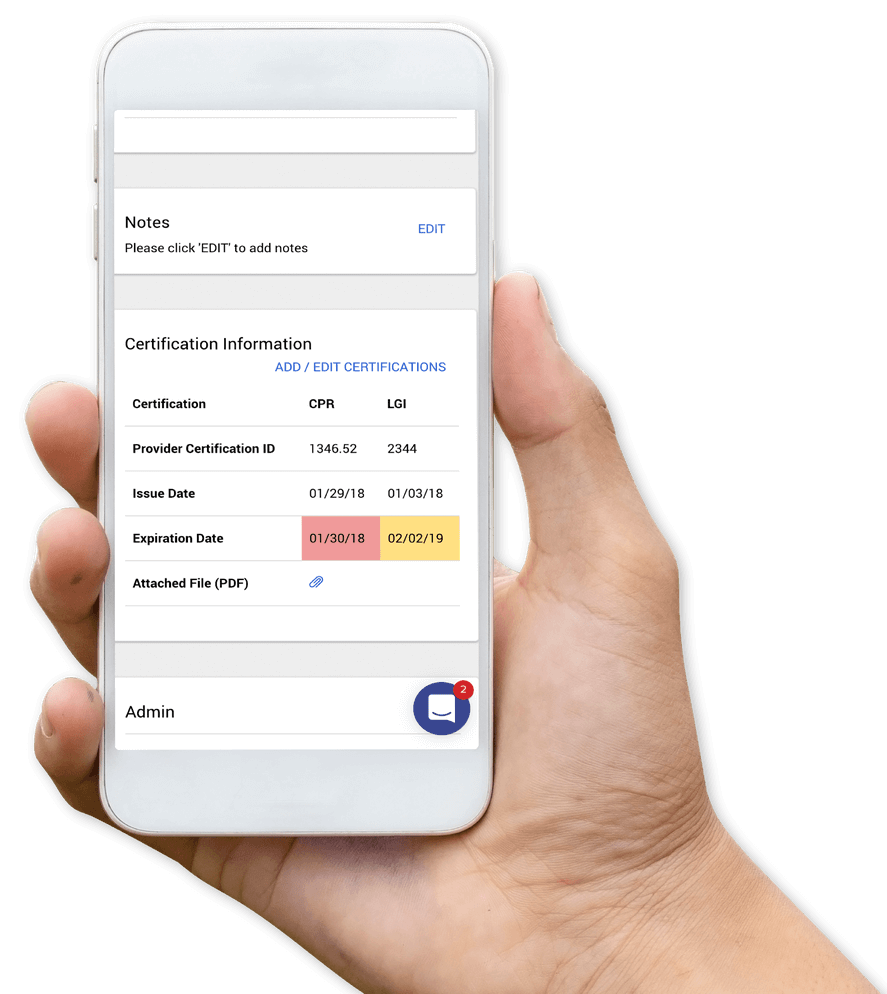 ---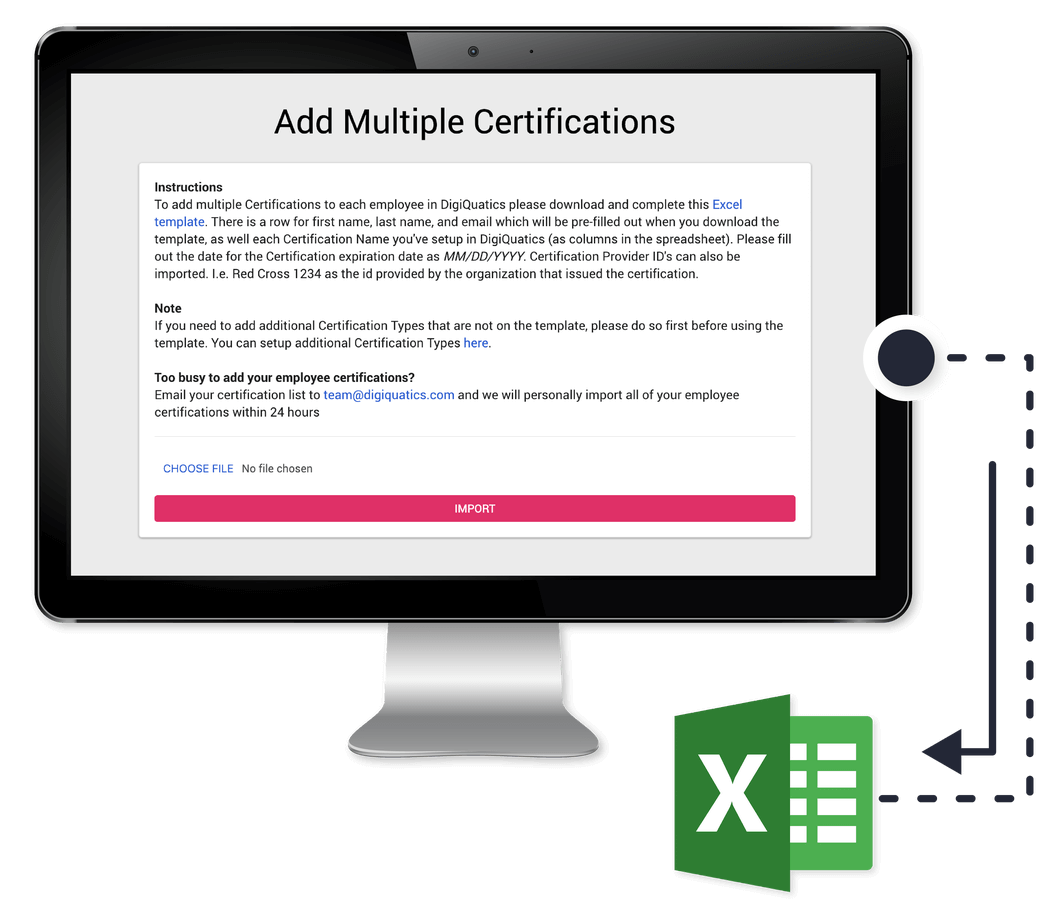 Seamlessly take your certification tracking digital
We know you're busy. You can easily import all of your certification data from Excel into DigiQuatics and get up and running in a matter of minutes! Need your data exported quickly? DigiQuatics gives aquatics and recreation departments 100% flexibility with exporting their certifications into Excel. Your data is always YOUR data and it's available for export instantly at any time!
---
Common aquatics certifications managed:
American Red Cross Lifeguard
American Red Cross Waterfront Lifeguard
American Red Cross Waterpark Lifeguard
American Red Cross CPR/AED
American Red Cross Bloodborne Pathogens
American Red Cross Water Safety Instructor
American Red Cross Lifeguard Instructor
American Red Cross Lifeguard Instructor Trainer
Starguard Elite Lifeguard
Starguard Instructor
Starguard Instructor Trainer
Jeff Ellis & Associates Lifeguard
Jeff Ellis & Associates Lifeguard Instructor
YMCA Lifeguard
YMCA Lifeguard Trainer
YMCA Swim Lessons Instructor
Certified Pool & Spa Operator (CPO)
National Pool and Spa Foundation (NSPF) Certified Pool Operator
National Recreation and Parks Association (NRPA) Aquatic Facility Operator (AFO)
American Safety Training Institute - Emergency Oxygen
SafeSplash Instructor
And many more!
Over 43,553 certifications tracked and 3,181 certification types created!
Try it Out
"Digiquatics has helped us manage our employees' schedules, certifications, work permits and contact information all in one database. We also have the ability to see the chemical checks, secondary duties and bather load all in once place!"